Hioki clamp on meters are best-in-class measuring devices incorporating Hioki's expertise in current sensing technology. The CM4375 is a 1000A AC/DC True RMS clamp meter that features a uniquely designed slim jaw that lets you easily get into the narrow gaps between cables in crowded electrical distribution boxes without fear of damaging the cables or the clamp meter. The broad -25°C to 65°C operating temperature range and IP54 dustproof and waterproof enclosure to enable professionals to work quickly in challenging situations including the development, repair, and maintenance of equipment and devices such as electric vehicles. Additionally, the high-voltage DC measurement capability of up to 1700 V (*1) is ideal for the clamp maintenance inspections of electrical and solar power equipment.
CAT IV 600 V, CAT III 1000 V
Made for Real-World Situations Uncompromising Design
Panel overcrowding is commonly found in many power distribution breakers and termination boxes. The newly designed thin sensor gets into even the most limited spaces. Eliminate the issues of trying to find the right wire or forcing the clamp around thick cables.
Damage-resistant jaws! Guaranteed for 30,000 open-close cycles
The new and improved design features stronger jaws (the current sensor portion of the instrument) and a dramatic boost in the duration of the warranty from 10,000 to 30,000 open-close cycles to ensure the instrument will provide even more years of reliable use. The CM4375, CM4376, CM4141 and CM4142 deliver the dual functionality of ease of clamping and resistance to damage.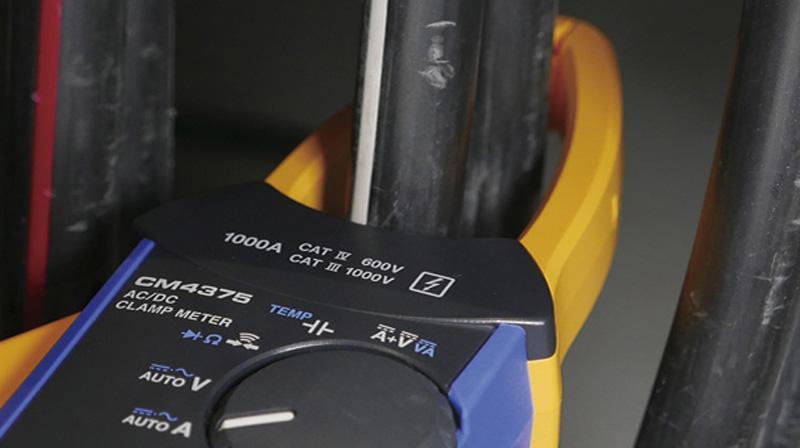 Inrush (Rush current): Assess transient currents at motor startup
The CM4000 Series can simultaneously measure inrush current in RMS as well as maximum crest values at motor startup and for welding currents.
The clamp meters automatically detect the duration of the inrush current (which can range from several dozen milliseconds to several hundred milliseconds) and measure the current during that interval, enabling them to yield more accurate measurements than standard clamp-on meters whose measurement interval is fixed to 100 ms.
Use the inrush current feature for motor installation and maintenance to prevent circuit breakers from tripping, especially with high efficiency motors that have inrush current many times greater than the steady-state current of the motor.