Hioki insulation testers or megohmmeters feature all-in-one designs including built-in rugged cases and test lead storage compartments. The IR4057-50 is a 5-range, 50 V to 1000 V digital insulation resistance tester with bargraph, and delivers efficient functions and features to help shorten work time associated with field insulation testing.
CAT III 600 V
Easy! Just connect the optional Z3210 Wireless Adapter to your Hioki compatible instrument, to make it Bluetooth® ready.
Wirelessly connect Hioki-compliant instruments with a simple connection.
Transmit measured values to your tablet or smartphone.
Wireless support: Wireless communication capability for even greater convenience than legacy model
Compatible with Wireless Adapter Z3210 (optional). It transfers measurements to your smartphone or tablet and allows you to quickly create reports with field photos and drawings.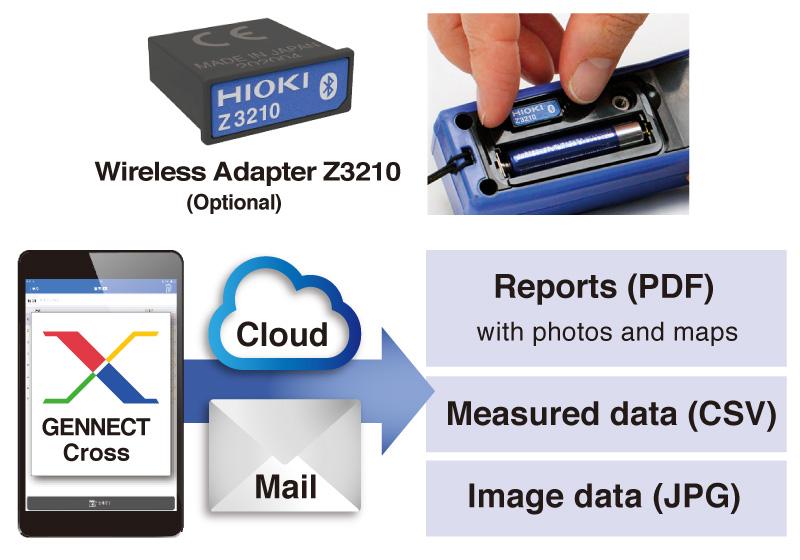 Instantly create reports by a free app (GENNECT Cross)
GENNECT Cross, a free app designed specifically for use with Hioki measuring instruments, lets you check and manage measurement results and create reports.
The software provides a range of functionality that helps manage data in the field, including photographing measurement sites, placing measurement results on photographs, and saving hand written memos.
Optional Wireless Adapter Z3210 is necessary.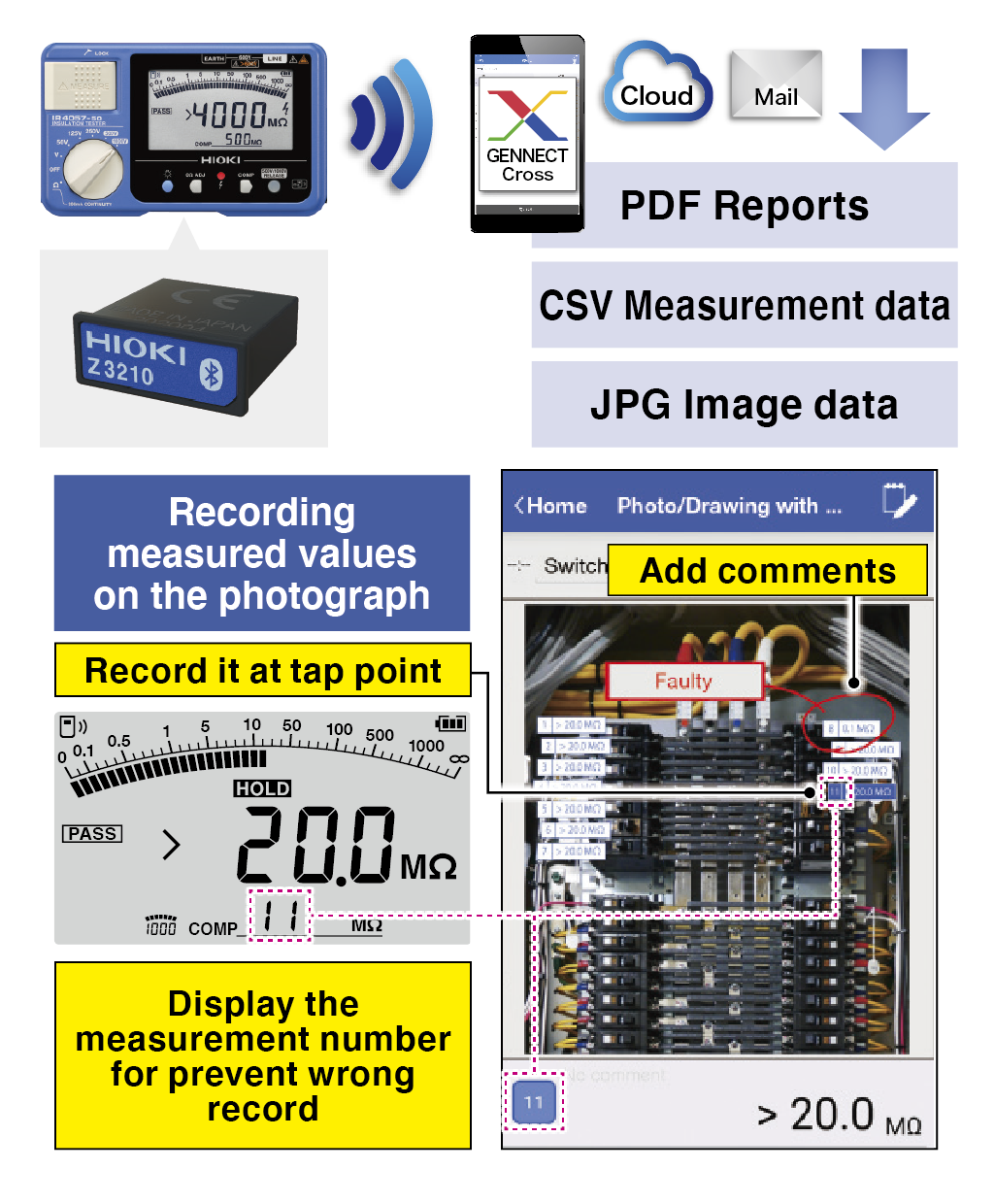 Easily transfer measurement data to an Excel® file
Excel® Direct Input function allows you to input measurement values directly and automatically into an Excel® file once the instrument's auto-hold function is activated. (Wireless Adapter Z3210 is necessary)
Comparator function provides PASS/ FAIL decisions at a glance
Compare measured values to pre-set reference values to generate a pass or fail judgment with the Comparator function.
(also pair with insulation resistance measurement and low-resistance measurement)
The insulation testers give you pass/ fail results using a beeping sound, LCD light, and indication right on the test lead with remote control switch (option), letting you check for insulation integrity without needing to look at the instrument.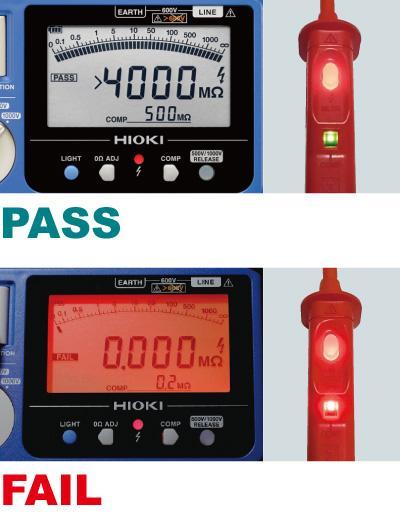 Robust, damage-resistant design
These instruments feature a robust design that can withstand being dropped onto concrete from a height of 1 m.
Difficult to damage, this insulation tester is ideal for use in the field.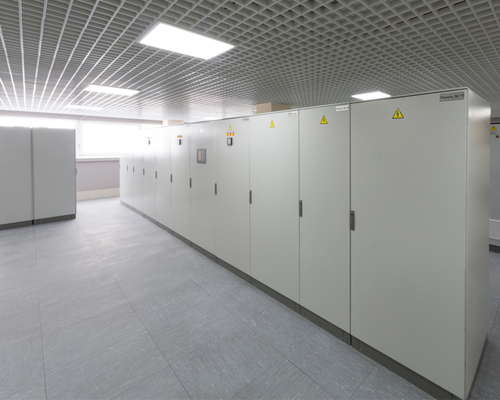 White LED lighting that's easy to read in dim locations in the field
The scale is lit by a white LED, ensuring that insulation resistance values are easy to read, even when using the instrument in a dim location.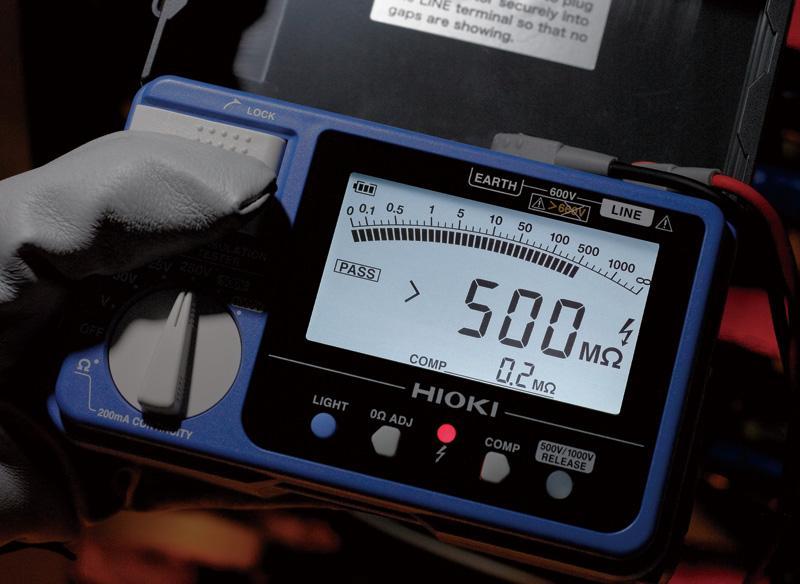 Measurement switch designed for outstanding ease of use
The instrument's measurement switch can be operated with just the thumb.
Press for a single measurement or lift up for continuous measurement of insulation resistance.